Ron SD
---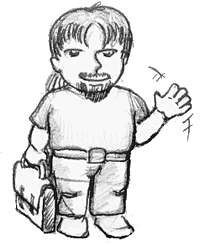 Here is a quick pencil-sketch self portrait of myself. RonSD is done in a Japanese Style made popular in the early 1990's called "Super Deformed", or SD for short.
The traits of this style are childlike proportions, simplification, and charactiture. Things that single me out are made prominent, while common things become less important.
At the time I made this drawing, I was just starting to grow my hair out, and always carried around a green JanSport bag. By the time I did my watercolor portrait, and the photo it was based off of, my hair had grown to over 3 feet long.
Currently (2004) My hair is about a quarter inch to a half inch long depending on how soon I need a hair cut.
---