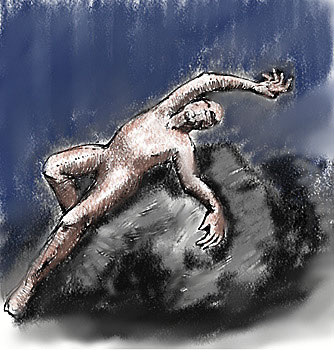 One day while waiting for my shift to be over at the Art&Design Lab at Cal Poly, I decided to do a drawing that invoked the feeling of despair. What could be worse than being naked on Lava Rock while cold and wet?
No, I really did like volunteering at the lab, and the subject had nothing to do with how I felt that day.
Actually, someone had mentioned classical art, and what lept to mind was Theodore Gericault's Raft of the Medusa.The pose and feel of both peices seem similar to me.
This piece was done entirely in Fractal design Painter, on a Centris, or Quadra 800 Power Mac.