Vampire Princess Miyu 2
---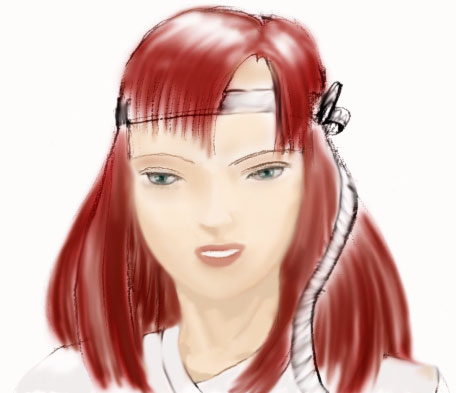 Here is the Digital version of Vampire Princess Miyu.
As I looked again at the digital and analog versions of Miyu, it struck me to dig out the old manga that I had bought so many years ago, and compare my work with it's inspiration.
I have so long associated my Miyu with the manga, that I was astonished at the differences in style between the two. As different as the digital version is to the analog, so is the analog to the image on the back cover of the manga.
My Miyu is actually drawn in a more realist style. The eyes are a bit wide, but nowhere near the great orbs on the back page. Also, the nose and mouth ar far more closely proportioned to the shape of the head. I've also added a very 1960's looking ribbon.
Such is the difference between copying and inspiration.
---