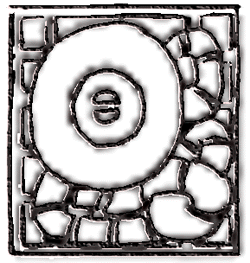 During my work on the Modern Maya prototype, I decided to create some iconography that looked Mayan, but depicted a modern topic. In this case, a reel of film.
The frame is a frame of film, with the sprocket holes down the sides. Within this is a reel, with intestine like coils of film looping about.
Finally, I liked the fact that the whole thing looked like it had been cut from a sheet of steel and let rust, so I added the drop shadow to give it that floating effect. I can easily see something like this being a gate , or the leadding on a stained glass window.